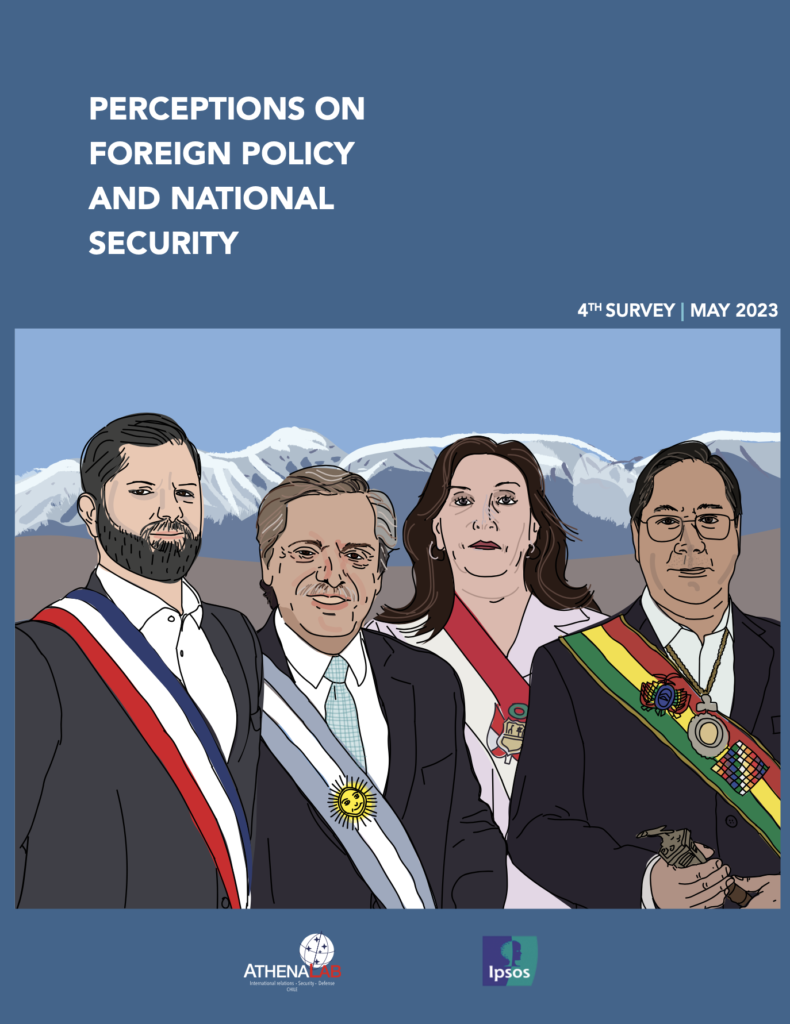 Our fourth Foreign Policy and National Security survey, carried out jointly with Ipsos, confirms Chileans' concern about drug trafficking and irregular immigration, two transnational phenomena that exploit the porosity of Chile's extensive borders, and fuel the country's current security crisis.
Several of these problems, which today seem to have exploded simultaneously, had been addressed early by AthenaLab with concrete proposals in the area of border security, intelligence system reform, and promotion of interagency work to dismantle criminal economic activities.
The novelty of the 2023 edition of the survey lies in the decision to consult our neighbours Argentina, Bolivia and Peru on their opinion regarding their foreign policy objectives, their concerns, and how they perceive different nations. To this end, Ipsos, a company with international presence, relied on its established panels in these countries to ask them the same questions as in Chile.
At first glance, we can perceive concern about the threat posed by drug trafficking, and the demand for governments to prioritise the fight against this crime. However, the similarities end there, as will later be seen in detail.
Despite sharing a common space in South America, we do not look at the world in the same way, nor do we assign equal importance to the threats and opportunities it presents.
We at AthenaLab believe that these comparisons can serve as a tool to explore possibilities for integration and identify the divergences that can normally be expected among societies.
Given the lack of regional instruments measuring different public opinions on specific foreign policy and national security matters, we trust that this first approximation will be a contribution and stimulate both new research on the matter and a greater understanding between countries.