Executive summary

The mega-fire that broke out in December 2019 in Australia seems to be a tragic example of what can happen if climate change accelerates with devastating consequences. Even countries with an immense state capacity and vast resources can be overwhelmed when facing emergencies of great magnitude, providing a postcard of a future that we would not want to see.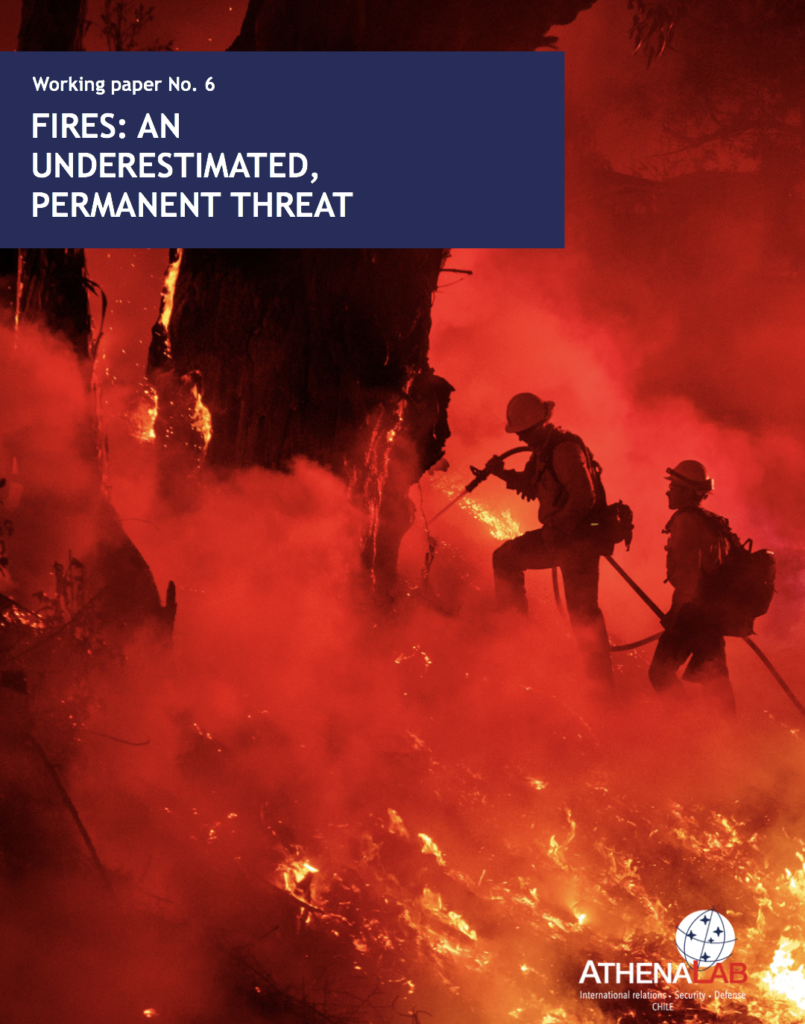 By describing fire as a threat to security, this new ATHENALAB document seeks to warn of the enormous damage to people, private property and ecosystems that fires of great magnitude — especially forest fires — can cause, as well as those directed specifically against critical infrastructure. It is important to note that this is not a scientific analysis, nor does it have pretensions in the field of forestry, where there are renowned experts.
It is increasingly clear that, in the forestry field, it is becoming more and more common to see cases of states being forced to deploy enormous resources and take extraordinary measures in emergency situations that cannot be contained by specialized brigades and firefighters.
These types of disasters might be more frequent due to the effects of climate change, to the point that fire seasons no longer coincide directly with summer months, as we have seen after comparing the cases of Australia 2019-2020, California 2018, and Chile and Portugal 2017.
Faced with the threat of large-scale forest fires and those directed specifically against critical infrastructure, we need to improve our warning systems, adopt preventive measures and have the security infrastructure to confront them, as has been done in relation to earthquakes and tsunamis.
From a security perspective, according to Barry Buzan's multidimensional definition, it is possible to classify forest mega-fires as a phenomenon that directly affects individual and human security. Now, when the magnitude of the disasters produces greater risks and threats, thus forcing the significant mobilization of resources, personnel and institutions, we are in the presence of a phenomenon that compromises national security. In the long run, fire affects development conditions, regardless of whether its origin is intentional or fortuitous.
When analysing Conaf's strategy, a new, more aggressive, coordinated and sophisticated approach can be appreciated both in the budget and number of resources, and in its deployment and employment. This approach reveals a remarkable series of lessons obtained over the past decade.
In spite of everything, fire is still an underestimated phenomenon. Even if and when it is used as a terrorist weapon. Therefore, it must be studied in more depth, as it has been by the United States and other Western powers.
The neutralization of this threat requires effective coordination between all agencies and other actors, which should be included as a key and relevant factor in the creation of the new "National Civil Protection Agency" to replace ONEMI (National Office of Emergency, of the Ministry of the Interior).